It's hard to describe how quickly two years went by. Time moves swiftly when career advancement, international exposure, and fun all compete to be at the core of the MBA experience. So, please put on your seatbelts, and let me take you on a quick 2-year journey.
First Year​
Summer and Fall Terms​
My first class at Fuqua was Entrepreneurship Mindset and Action with
Professor Christine Moorman
. As an entrepreneur with over a decade of experience in the technology consulting space, it was love at first sight as I nosedived through the class, squabbling with memories of the mistakes I have made in the past and my thoughts that were trying to drag me back in time to rewrite my story.
All my other
classes
had the same effect on me, but each course differed and their uniqueness was not hard to catch. Fuqua offers a diverse set of professors, who along with their wealth of experience, teach a body of students from all over the world. The main learning concepts are the same, but getting everyone's unique perspectives turns the class into a melting pot of knowledge, culture, and diverse experiences. The closest description for this experience is like sitting in the United Nations General Assembly for your classes.
Business school is not a walk in the park and challenges show up too. Mine was no different as I took on the core accounting class. In all honesty, accounting took
me
on

. This class gave me a run for my money. In hindsight, I began to appreciate the accountants that had worked with me. I continued to sit in front of the class, hoping things would improve, but the more I looked, the less I saw. Eventually, office hours with the professor,
John Heater
, and tutorial sessions helped. One exciting thing about accounting at Fuqua is the brilliant way the topics are tied to actual events in the U.S. market to aid understanding. I wasn't only happy that I finished the course, but my respect for accountants grew exponentially.
Spring Terms​
After much preparation from the
Career Management Center
, I secured a summer internship offer with the tech giant Dell Technologies. In the meantime, the International Programs Office hand-held me through getting my work authorization—I couldn't start my internship without that. As an entrepreneur, I was super fascinated by the idea of being in a 9 to 5 environment. Oh! One more thing, I got selected to serve as the vice president, of international affairs for the student governing body, the MBA Association.
Summer​
Not long after final exams concluded, I was on my way to Germany on a trip that was part of the Global Academic Travel Experience, or GATE. After several weeks of classroom learning in Spring Term 2, the trip's focus was to experience how Germany is encouraging diversity and inclusion compared to the U.S. Beyond making group visits to large organizations and learning about their DEI goals, it was fascinating to learn the essential words, phrases and greetings in German, and to experience the local food and historical sites.
I returned to the U.S. and what seemed like minutes later, I was in a queue at Dell's office in Round Rock, Texas, waiting to receive my work laptop. I got my computer, stopped at the cafeteria to get a cup of coffee, and before I knew it, the internship was over and I was returning to Fuqua for the second half of my MBA program.
Second Year​
Fall Terms​
We were back in class, but unfamiliar faces were everywhere. A new set of intelligent students had begun their MBA program. Not only did we have to share the space, but we also had more responsibilities.
Showing them the ropes
and welcoming them into the
Team Fuqua
family was something I enjoyed doing.
Spring Terms​
As VP of international affairs, I started implementing ideas at the beginning of the school year I thought could bring international and domestic students closer within the Fuqua community. One of the interesting ones named "Global Knowledge" was getting people to tell us where they were from and the misconceptions people should correct. The resulting slides stayed on a big screen at the Fox Center, Fuqua's central gathering area, where people could learn from them all week.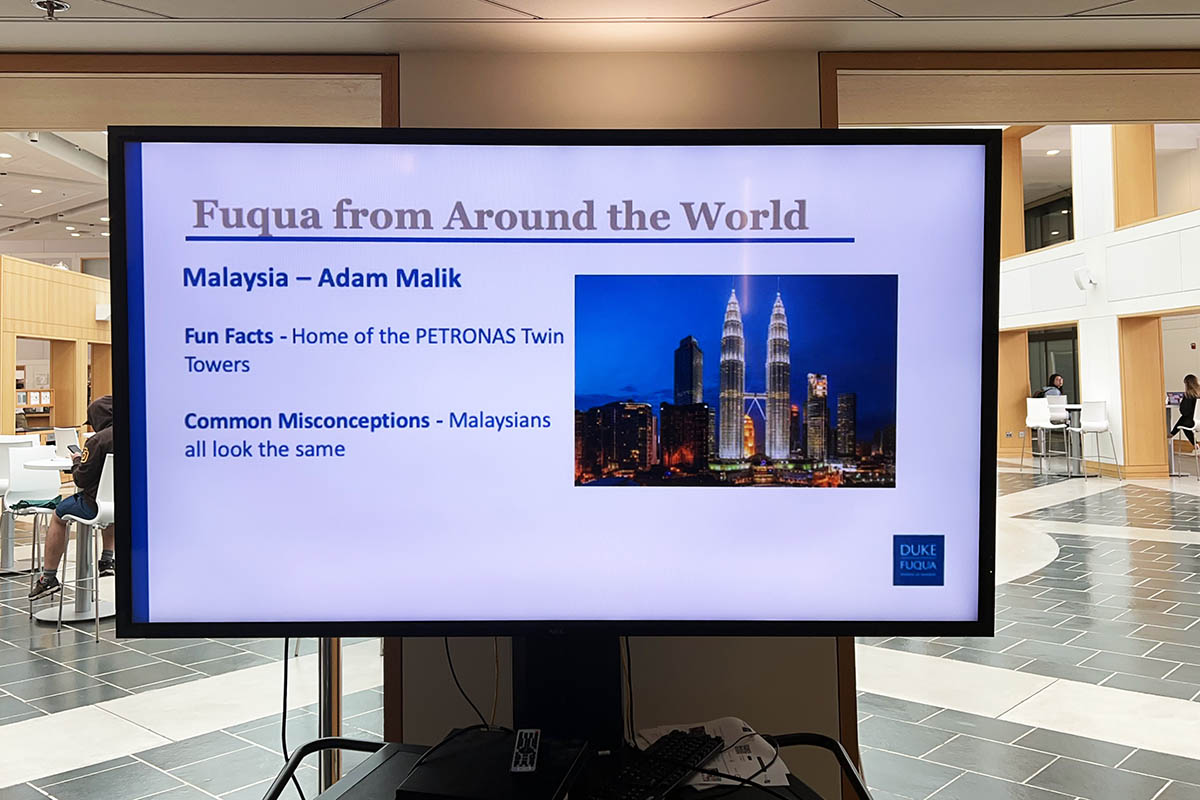 A scene from the Global Knowledge display in the Fox Center
I also began focusing more on my entrepreneurial ambitions, drafting my ideas, and getting feedback from faculty, staff, and students. One can never over-emphasize the importance of the resources of
Duke Innovation and Entrepreneurship
, located underneath the Fox Center.
Then came the moment when I launched my business in the U.S., in my living room, with Duke and UNC MBA students in attendance. Two lines of business were founded that night:
Mydomot: e-commerce and telemedicine services for Africa
Cloud and Prem: tech consulting (open source, DevOps, AI, and more)
My business launch
Eventually, I got a call, "Hi, my name is Brittany Patterson. I'm calling from the Office of student life to let you know that your graduation gown, cap, and hood are ready to be picked up."
On my way to her office, my feelings were mixed—happy to graduate but sad to leave this excellent environment and exciting people I have learned from and with for the past two exhilarating years!
The post
Time Flies During Your 2-Year MBA Experience
appeared first on
Duke Daytime MBA Student Blog
.
More...
How does this impact your International MBA decision?
I'd be glad to learn your thoughts on this story : Time Flies During Your 2-Year MBA Experience